Winter Wedding: What Decor Will Create The Atmosphere Of A Fairy Tale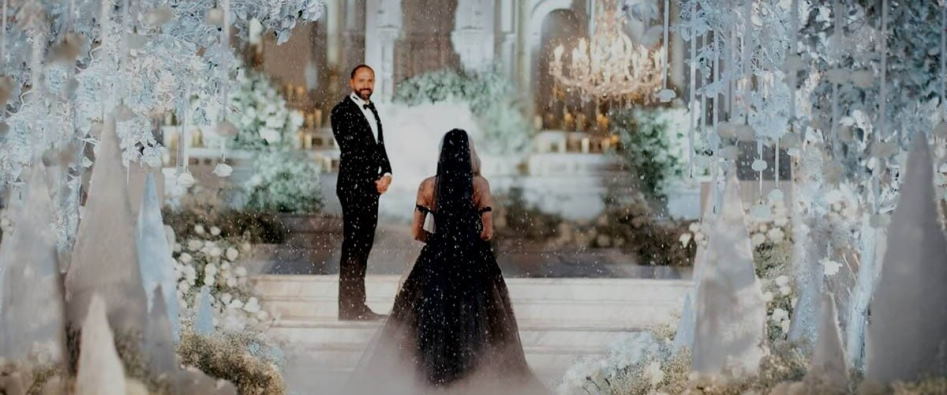 A winter wedding can be just as beautiful as a summer or spring wedding, but it takes a bit more planning to ensure the venue is decorated in keeping with the season. Here are some ideas for creating a fairy-tale atmosphere at your winter wedding.
Creating magic around you
White walls and big windows
White color has the property of reflecting light, so when choosing a wedding venue, try to find a room with white walls and large windows. It creates a unique atmosphere – it will seem like you are inside a real ice castle.
If the chosen venue does not fit this description, don't worry. You can always use white fabric to cover the walls or hang fairy lights around the room to create a magical atmosphere.
Knitted blankets
A cozy and soft solution for decorating seats both at a ceremony and at a banquet. Guests will feel at home and, if necessary, will be able to warm themselves with them. You can also lay such blankets on the floor before the fireplace – it will be very romantic.
Fur
Fur is a luxurious and noble material that is perfect for a winter wedding. You can use it to decorate the bride's chair and make seat covers or table runners. But be careful: too much fur can make the room look like a hunting lodge, so use it sparingly.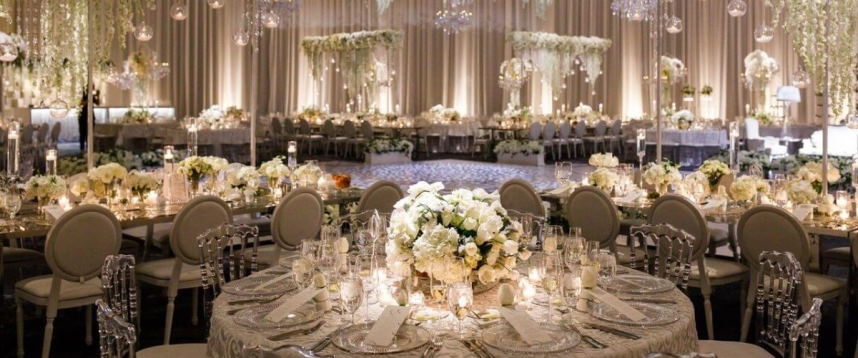 Trees with lights
The Christmas tree is a must-have for any winter wedding. But if you want to create an atmosphere of an accurate fairy tale, then choose not only the traditional fir tree but also decorate other trees in the room with lights. It will give the space a unique charm.
White and silver high branches
They can decorate the area of ​​the exit ceremony or the newlyweds' table. And they will look charming in huge vases scattered around the hall or on festive tables instead of classic flower arrangements. In addition, such branches can be decorated with crystals or glass beads, creating an even more festive atmosphere.
Garlands
You can use them to decorate the fireplace, windows, or railing of the stairs. They will also look good as a table runner or draped around chairs. If you have an outdoor wedding ceremony, hang garlands around the site's perimeter – this will create an unforgettable atmosphere.
Fireplace
A fireplace is a great way to add coziness and romance to any wedding. If the venue you have chosen does not have a fireplace, you can easily create a fake one. For example, you can use a portable electric fireplace or make an improvised hearth out of bricks.
Street lighting
Candles, lanterns, and garlands can be placed anywhere in your wedding venue to make it light. It is essential, especially because it gets dark so early in winter! Hang disco balls above the dance floor for a cool effect.
Snow
If you are holding your wedding in a warmer climate, then you can create the illusion of snow with the help of special machines that produce foam or soap bubbles. But if you are lucky enough to live in a place where it snows in winter, then use this opportunity to decorate the venue with snowflakes. It will be wonderful and romantic.
Table decoration
Coniferous branches and cones
Spruce, pine, juniper, cedar – each a wonderful winter detail. Branches can be laid on tables, attached to napkins, or placed in small jars. The cones can be used as seating card holders. Plus, they look great together. And the smell they exude will immerse everyone in the world of a fairy forest.
Winter fruit
Cranberries, pomegranates, figs, quinces – all this is so beautiful and unusual that it will not go unnoticed. You can use such fruit to decorate the bride's bouquet and tables and chairs. They will also look good in a bowl or platter as a centerpiece.
Winter flowers
When planning a winter wedding, you should definitely use winter flowers in your decor. Poinsettia, amaryllis, holly, evergreen – all these plants will create a festive atmosphere and make the room look elegant. In addition, you can use them to decorate the fireplace, fence, or table.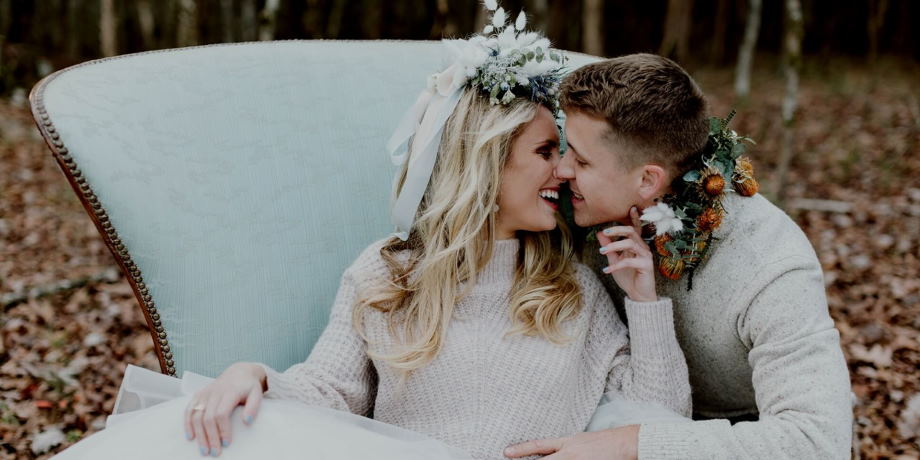 Personal details
Invitations
If you are looking for a themed invitation, look for lace invitations decorated with sequins, rhinestones, and snowflakes. You can find them in the shapes of Christmas trees, snowflakes, or even champagne bottles.
Presents for guests
A small bottle of champagne or wine, a box of chocolates, a scented candle – these are just some ideas for presents that you can give to your guests. But the most important thing is to ensure that the presents are wrapped beautifully. You can use ribbons, bows, and even real fur to make them look more luxurious.
Favors
If you want your guests to remember your wedding for a long time, give them something they can use in their everyday lives. For example, a key ring with your wedding date or a small handbag mirror with your initials.
Cake
A wedding cake is an excellent opportunity to show your imagination. You can do it in any suitable subject. The main thing is to think over everything competently and find real masters of their craft. For example, try adding berries or cones to your cake for a beautiful fairy tale.
A winter wedding is a great opportunity to create an unforgettable atmosphere. By using the right decorations, you can make your wedding truly magical. Lanterns, candles, garlands, and lights will help you to create a warm and romantic atmosphere. And if you use personal details such as invitations and favors, your guests will remember your wedding for a long time. So don't be afraid to experiment and have fun!